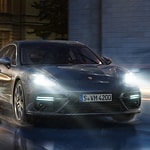 The Porsche Panamera is one of the most impressive luxury vehicles on the market which we at Valley Imports believe will give you a comfortable and exhilarating ride. When you drive the Porsche Panamera, you will enjoy the 330 horsepower engine and the comfortable seats and climate you will find within.
The Porsche Panamera brings excellence in design to every aspect of the luxury car with every passenger placed in control of their climate with four separate zones included. Both seats in the rear are given their air conditioning and heating controls along with a dedicated touchscreen that allows access to the air conditioning system that includes an ionizer for the cleanest air possible free of the majority of exterior pollutants and germs as you drive around Fargo.
The options for enjoying the best in surround sound with either a Bose or Burmester sound system that brings the best in sound quality to all areas of the Porsche Panamera.