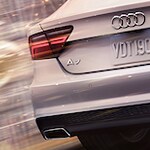 When it comes to sleek and sexy automobiles, few automobiles can outclass the Audi A7. This popular sportback has gained a loyal following since its release, and it's looking to win over a few individuals that desire other options. The new A7 offers a stellar appearance from the inside-out, and it comes with a powerful engine.
On the technology side of things, this car has some of the most cutting-edge innovations. The A7's integrated rear spoiler will rise and lower when a certain speed is reached, which is great for airflow and stability. Laser lights are embedded into the HD Matrix-design headlamps for an illuminating effect. The Audi A7 even offers dynamic indicators in its LED taillights. The interior hosts two MMI touchscreens that are hyper responsive. There's also multicolor lighting for the interior.
Swing by our location today to get a free test drive of the new Audi A7.