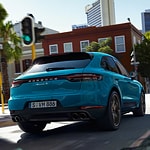 The Porsche Macan has received the highest marks in its class for reliability. As a compact SUV, the Macan looks stylish, comfortable, and safe. Even with the base edition, you'll get a great performance package with a turbocharged engine that produces 248 horsepower. For the latest lineup, Porsche also included a refreshed exterior and interior design with more standard features in the base model.
The new turbo V6 Macan S is the latest edition to the compact SUV, and it's one of the best in class. You'll get up to 348 horsepower with the Macan S, and it includes all of the premium features in the base edition plus some extravagant custom leather interior. The intuitive infotainment system, premium cabin, and additional cargo room make the Macan one of the best SUVs on the road.
Want to see the performance in the Macan for yourself? You can pick out your vehicle at Valley Imports for a test drive.