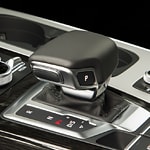 Many Fargo SUV drivers are taking notice of the Audi Q7. Its seven-person seating configuration is quite useful, but its performance features certainly stand out as well. One of them is the standard Quattro all-wheel -drive, which will go a long way toward enhancing your Audi Q7's on-road experience.
While driving your brand-new Audi Q7, you will be able to take advantage of its 335 horsepower as well as its dependable 369 pound-feet of torque. In addition to these, being able to pull up to 7,700 pounds behind your new Audi Q7 will be quite useful as well.
The available all-wheel steering helps the Q7 use counter steer and the equally important parallel steering. Whether tight space maneuverability or high speed agility is more important to you, the all-wheel-steering of the Audi Q7 is something that Valley Imports knows will be of great use to a wide variety of local Audi fans.