New Mercedes-Benz Cars and SUVs in North Dakota | Serving Fargo
Check Out or New Mercedes-Benz Inventory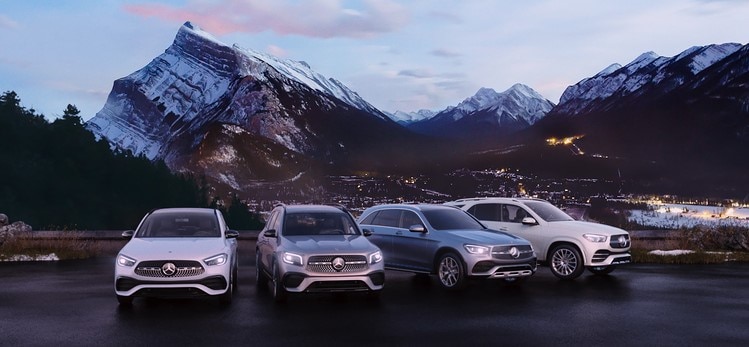 Mercedes-Benz makes some of the best vehicles in the world. It is one of the many reasons why they are well renowned for their luxury cars and SUVs. At Valley Imports, we are proud to tell you about our inventory of Mercedes-Benz vehicles. These vehicles offer plenty of features to help you navigate the streets of Moorhead, MN, and you will even be able to explore the entire Fargo, ND area.
Mercedes vehicles typically offer plenty of advanced technology that you don't see anywhere else, which is why they are so popular. Get started by filling out a financing application and you are a step closer to driving home in your new Mercedes-Benz from Valley Imports.
Mercedes-Benz SUVs for Sale
Mercedes-Benz has a great lineup of SUVs. These will be exceptional for driving in the Detroit Lakes, MN area, and it will be a wonderful time for the entire family.
GLA SUV
The beautiful thing about the GLA SUV is that it includes an eight-speed automatic transmission that ensures you get better shifts in your sporty SUV. It performs well, and you will love how it feels while driving in Fargo, ND.
GLB SUV
The GLB SUV is a lot bigger, but it still performs very well. It has four seats, and you get a lot of legroom as well. The four-cylinder engine puts out 221 horsepower . It makes it possible for you to enjoy your morning commute.
The best thing about this vehicle is that it includes a 10.25-inch touchscreen display. It includes a powerful engine that delivers 255 horsepower . That engine is bolted to a nine-speed automatic transmission. You get the ultimate performance in the Grand Forks, ND area.
If you want a luxurious interior, you'll love how the GLE SUV performs. It is a large SUV with three rows. You can bring the entire family along for the ride. You also get all the modern technology that comes with Mercedes-Benz vehicles. The powertrain is also enhanced by an electric motor.
G-Class SUV
The G-Class SUV is the ultimate in luxury. It provides a state-of-the-art cockpit that helps you navigate the entire Fargo, ND area more easily.
Mercedes-Benz Cars for Sale
If you want something smaller than an SUV, you'll also love our exciting inventory of Mercedes-Benz cars.
This is the entry-level sedan that is powered by a 2.0L engine that puts out 188 horsepower. It also includes the features you want to drive around with. It also has many electronic safety features that help you go through the day more easily.
This is the ultimate driving machine that provides the perfect blend of luxury, safety, and technology. The design is bold and beautiful on top of that. 
E-Class Sedan
The technology you find on this vehicle will ensure that you never want another driving experience. You will feel a lot safer driving this vehicle in Detroit Lakes, MN.
S-Class Sedan
This vehicle includes a screen on every seat, so your passengers will have the entertainment they want. It is a perfect choice for people who want to keep their friends and family entertained. Your driving adventures will be more fun in Moorhead, MN.
CLA Coupe
The major innovation in this vehicle is the voice assistant that allows you to do certain functions with your voice. You also get a plethora of driver assists that make your trips on the road more fun.
C-Class Coupe
This coupe has the perfect blend of performance and luxury. If you don't have a massive family, it is the perfect luxury coupe for you. This luxury is backed up by an engine that puts out 255 horsepower.
E-Class Coupe
The best thing about this vehicle is that it includes multiple driver assists to make your time on the road safer. You will love how it feels on the road. The cockpit makes it easy to have all the information you need in one place.
Mercedes-AMG GT
The Mercedes-AMG GT offers the ultimate performance for the people who want the best.
The all-new fully electric Mercedes EQ lineup of cars and sedans are now available from Valley Imports.