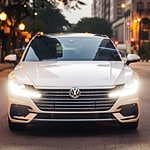 Have you been looking into the Volkswagen Arteon? If you have, then you have most certainly taken notice not only of its dependable performance but also of its compelling design features. There is a lot of competition on the mid-size sedan market, but the Arteon is able to stand out thanks to its high-quality design features.
What are those high-quality design features, though? The front end of this Volkswagen vehicle has multiple interesting lighting features. LED headlights and powerful Daytime Running Lights are present, but there is one available addition that is a bit more interesting. With your new Arteon's grille, you can actually integrate an LED light bar.
From the seats of the Volkswagen Arteon, Fargo motorists will notice the impressive amount of room that this sedan's interior affords them. Valley Imports also recommends looking into the VW Digital Cockpit if you are interested in the inside design of a new Arteon.