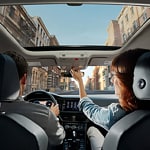 The Volkswagen Jetta is a four-door sedan that offers simple styling but extraordinary capabilities. The Jetta is both efficient and practical, which can be partially attributed to its technology features. From its headlight design to its fun infotainment system, the Jetta is equipped with all of the technologies that drivers need.

Entertainment Technologies

Occupants of the new Volkswagen Jetta can access the infotainment system of the sedan through an 8.0-inch touchscreen display. The infotainment system in the Jetta is equipped with both Apple CarPlay and Android Auto softwares. Ambient lighting sets a mood in the Jetta while a fully digital gauge cluster allows drivers to focus on the roads ahead.

Safety Technologies

The safety technologies of the Volkswagen Jetta keep occupants safe in the sedan by actively assisting and alerting drivers. There are several safety technologies that are available for the new Jetta, including automatic high-beam headlights and forward-collision warning.